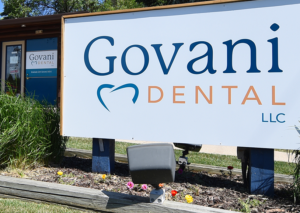 Choose the dentist in Oshkosh, WI where your overall oral health is priority number one
Dr. Shaheda Govani of Oshkosh makes your dental needs her top priority. As a member of the American Dental Association (ADA) and Wisconsin Dental Association (WDA), Dr.  Govani is dedicated to upholding the organizations' Code of Ethics to the highest degree. Commitment to quality care and ethics is apparent in her past participation on the Wisconsin Dental Association Ethics Board and the Fox Valley Technical College Dental Advisory Board.
About Govani Dental
Govani Dental as a team, respects each and every one of our patients' privacy and confidentiality.  We want to ensure patients are given all options, allowing you make the best decisions for your dental needs. In order to provide consistently high-quality, timely treatment, we stay up-to-date with the latest dental care education and technology. We will always consider your needs, wants and values when presenting treatment options and, if necessary, refer you to a specialist so you receive the proper care.
When you step into our office, we want you to feel right at home knowing that you can trust Dr. Govani and her committed team to be your partner in maintaining your best dental health. Since your mouth is a window to the rest of your body, comprehensive dental care is important to your overall health and well-being. Learn more about our dental practice by watching our video and following the links below.
Learn More About Dr. Govani
Dedicated to oral health and patient care and comfort, Dr. Shaheda Govani, DDS of Oshkosh, Wisconsin is a well respected member of the American Dental Association (ADA) and Wisconsin Dental Association (WDA). She loves serving her community and providing excellent quality, ethical care.
Meet the Caring Staff
Everyone in the Govani Dental family wants to make you feel welcome, and we're genuinely happy to have you visit. Learn more about our team that makes our mission to treat you as family a reality.
Discover What Makes the Office a Home
When you walk inside our Oshkosh dental office, you'll find a place that feels like home. From personal attention and service to a team that cares about your well-being, you'll quickly experience the Govani Dental difference.
See How Govani Dental Uses the Latest Dental Technology
Investing in technology helps us to provide the highest-quality dental care. It is also more convenient, environmentally friendly, and critical to maintaining patient safety and security.
Frequently Asked Questions
Do you have questions about Govani Dental? You can find many of the answers here.