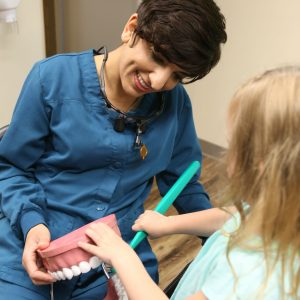 There are a lot of fancy words in dentistry, and many questions about procedures and overall oral health. We've pulled together answers to some of the most common questions about dental care, and provided links to top resources, like the ADA, where you can find more information. If you can't find the answer you need, please give our dental office a call at 920-231-1955, or email us.
How do I know if an old filling needs to be replaced?
Dr. Govani will let you know if an existing restoration is starting to degrade, crack or leak, and whether it needs to be replaced now or in the future. The dental office at Govani Dental has an intraoral camera, which captures the inside of your mouth and allows you to see the restorations yourself. Being able to investigate and see your mouth will make explanations and decisions much easier for you.
Why do my gums bleed when I brush?
Many patients may be concerned they are brushing too hard or should brush less if their gums are bleeding, when in reality bleeding may be a symptom of a larger issue. The gums are a very sensitive and an important area in your mouth. You may have the start of periodontal disease, be struggling with proper homecare like brushing or flossing, or have a more serious problem. It's best to make a dentist appointment at our offices located in Oshkosh, WI, and let Dr. Govani help you correct the problem.
What is the importance of Fluoride?
Fluoride is an element that comes from nature and can be found in drinking water and in some foods. Having adequate amounts of Fluoride helps prevent tooth decay. Fluoride helps strengthen the outer surface of your teeth, called enamel. When this outer surface is strong, it's able to prevent bacteria from causing tooth decay.
When should I bring in my young infant or toddler?
The American Dental Association (ADA) recommends children see a dentist within the first six months of a tooth erupting, but no later than their first birthday. This first dentist appointment is an opportunity to check to see if all the child's teeth are erupting properly and to detect any problems like cavities. The appointment also gives the child a chance to get comfortable with the dentist from an early age, creating a positive mindset and preventing fear.
When should I start brushing my child's teeth?
As soon as teeth appear in the mouth they are risk of decay, which is why it's so important to start brushing right away. Until your child is two years old, use a child-sized brush with pediatric toothpaste. Once the child is two and able to spit on their own, you can start using a pea-sized amount of regular toothpaste. Remember to make sure the child rinses and spits out the toothpaste!
Can my child go to bed with their bottle?
Children should finish their bottle before bed. It's important the child goes to bed with clean teeth. Leaving milk or other materials from sippy cups or bottles on the teeth all night can be very damaging and cause cavities. By teaching your child from an early age that brushing is part of getting ready for bed, you can instill good habits from an early age.
References: http://www.ada.org/3084.aspx
Links to more dental health resources: