Dental Services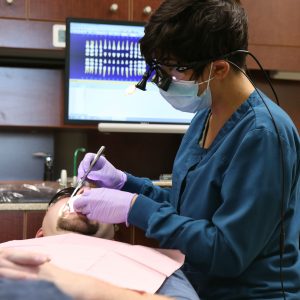 As a family dentist, our goal at Govani Dental is to provide you with the highest-quality dental care possible, giving you a smile that lasts a lifetime. Beyond just filling a cavity or curing a toothache, we want to be your lifelong partner in oral health, providing education and support along the way.
As a member of both the American Dental Association and the Wisconsin Dental Association, Dr. Govani offers a comprehensive array of dental services with the highest level of care and concern for your wellbeing. Our patients-first philosophy ensures that your experience will be comfortable and relaxed regardless of the nature of your appointment.
Preventative Dentistry
Keep your teeth healthy for years to come with the complete range of preventative services at Govani Dental. Preventative dental services include:
Regular teeth cleaning
Sealants
Fluoride treatments
Digital dental X-rays
Thorough dental exams
If you have healthy teeth, we'll make sure they stay that way. Read more about our preventative dentistry services.
Restorative and Cosmetic Dentistry
At Govani Dental, we believe everyone deserves a great smile. If your teeth are damaged or need assistance to look their best, we're happy to help. Our team is experienced in providing a wide range of services to restore your oral health, including:
Fillings, crowns, and bridges
Dental implants
Dentures and partials
Oral surgery
Root canal therapy
Periodontal procedures
Teeth whitening
No matter what dental issues you have, our restorative and cosmetic services can help you get your great smile back. Read more about our restorative and cosmetic dentistry here.
Ready to Join the Govani Dental Family?
If you're interested in becoming a Govani Dental patient, we welcome you to learn more about the team in our About section, or simply schedule your first appointment by calling 920-231-1955.