Pet Therapy at Govani Dental
Therapy Dogs Oshkosh
At Govani Dental LLC of Oshkosh, we want to make your experience with us the best it can be. As a result, we are pleased to promote our canine-assisted therapy program.
Research provides substantial evidence that canines can evoke positive emotions in humans. Therefore, this has led more organizations working with children and people with anxiety to use canines, helping gain interest and build rapport. It is vital for patients to feel comfortable and connected because this allows doctors and other professionals to positively implement treatment while improving the patient's overall experience.
As one of the first Oshkosh dentists with pet therapy, we started our program on August 24, 2012, with an AKC-certified Border Terrier named Ruby. Ruby is credentialed and certified with the Alliance of Therapy Dogs. Now that she is middle-aged, Ruby has shown less interest in therapy dog work. Because of this, we have introduced another AKC-certified Border Terrier, Bobby, to training. As Bobby begins his training as a therapy dog, his initial stay at the office will be for socialization. After Bobby's training is complete, he will be available for use at your request. Both dogs are hypoallergenic.
About Govani Dental Dogs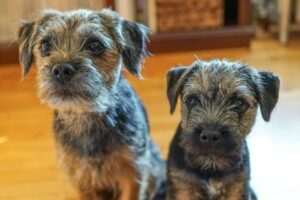 Ruby has been trained with the Oshkosh Kennel Club and Ideal Dog LLC under the direction of Lynsie Bernier. She has completed many basic, advanced obedience classes and her Canine Good Citizen test. Ruby came to excel at critical thinking and impulse control. She has additional training in agility, beginner sequencing, skill set courses, more advanced courses and barn hunt activities. Ruby successfully passed her test and therapy dog through Therapy Dogs Incorporated, now called Alliance of Therapy Dogs.
Currently, Ruby enjoys working a few days a month with patients. As she has matured, she has become less interested in therapy work. Ruby is a past member of the Oshkosh Kennel Club and a current member of the American Kennel Club and Alliance of Therapy Dogs.
Bobby has begun his training for potential therapy dog work. He has completed Puppy Pre-School and passed AKC STAR Puppy classes. He is now working on learning impulse control under the direction of Lynsie Bernier of Ideal Dog LLC.  Bobby is a member of the American Kennel Club.  Although young, Bobby loves to come to the office to socialize. He is at the office four days a week and is excited to meet everyone.
Pet therapy programs are relatively new to the dental industry. Govani Dental, an Oshkosh dentist, was among the first dental practices in Northeast Wisconsin to have one. We're excited to offer this additional service to help our patients have a comfortable and relaxed experience. Contact us today to make an appointment 920-231-1955.