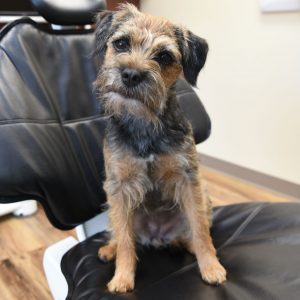 At Govani Dental, we realize a visit to the dentist can be nerve-wracking. For young children, or those who suffer from dental fears, an average visit can seem particularly daunting. Govani Dental has utilized caring techniques to reduce patient anxiety for a long time, but we've now added a secret weapon … Ruby!
As the face of our pet therapy program, Ruby's been doing a fantastic job helping patients feel at home when visiting Govani Dental.
Ruby began her training at the Oshkosh Kennel Club and dabbled in local AKC dog shows. Although she showed promise, it was apparent Ruby would rather work and be social. This is when she moved to advanced obedience skill training with the goal of passing the Canine Good Citizen test. She was able to achieve this goal with the help of Ideal DOG and her trainer Lynsie Bernier.
Through the continuation of class work, along with one-on-one lessons and Canine College, Ruby came to excel at critical thinking and impulse control. Her high energy and worker attitude was put to the test with additional training in agility, beginner sequencing, skill set courses and barn hunt activities. Ruby successfully passed her test for therapy dog registration through Therapy Dogs Incorporated, now called Alliance of Therapy Dogs.
Currently, Ruby enjoys visiting local nursing homes to provide comfort to those in need. She looks forward to working one-on-one with dental patients as she matures. Ruby is a past member of the Oshkosh Kennel Club and a current member of the American Kennel Club, and Alliance of Therapy Dogs.
Pet therapy programs are relatively new to the dental industry. Govani Dental, located in Oshkosh, is among the first dental practices in Northeast Wisconsin to have one. We're excited to offer this additional service to help our patients have a comfortable experience.
Ready to Join the Govani Dental Family?
If you're interested in becoming a Govani Dental patient, schedule your appointment online or by calling 920-231-1955.