Dental Implants in Oshkosh
Dr. Govani of Oshkosh and her trusted specialists have the dental implant knowledge to restore your smile with dental implants that look and feel like real teeth. If you are missing one or more teeth, or have teeth that are damaged and need to be removed, you may want to consider implant dentistry as a option to restore your smile.
Missing teeth that are not replaced can cause loss of function when chewing or speaking and can lead to shifting and drifting of remaining teeth. For example, teeth above the space could shift down, and adjacent teeth could move into the empty space. In addition, bone loss will occur in the area of the missing tooth, causing remaining teeth to change position over time.
What are Dental Implants?
The American Dental Association considers dental implants to be one of the most significant advancements in dentistry in the past 40 years. Implants are made of titanium, a strong lightweight metal, and other safe materials. The dental implant procedure begins with surgically implanting a post, or a metal "root," in the jaw. Implanting the metal post provides the support needed for the new tooth once it integrates to the jaw bone. Govani Dental then places a custom tooth (abutment) with a crown on top of the implant in a shade that matches the rest of the teeth.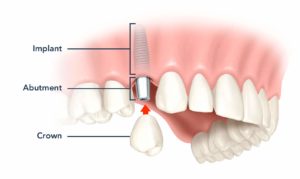 Dental implants takes time, the procedures often are completed in phases. During the process, Dr. Govani may make a space maintainer to help hold the space to prevent teeth from shifting and so missing teeth don't show while speaking or smiling.
While implants cannot decay like teeth, they are susceptible to periodontal disease. For this reason, implants need the same care as natural teeth. Regular brushing, flossing, dental checkups and cleanings will help maintain the bone and tissue that support the implant.
Implants vs. Partial Dentures and Bridges
For those who are missing teeth, Govani Dental has treatment options from fixed implants to options such as removable options, including a retainer or partial denture.
Partial denture
These are worn during the day and removed while sleeping. A retainer or partial denture keep teeth from shifting and drifting. However, removable options do not maintain bone height and loss of teeth will lead to more bone loss without bone grafting or implant placement.
Another challenge is removable options are not as stable and some people have experienced loss of chewing function and find it hard to adapt because these options are not fixed in place.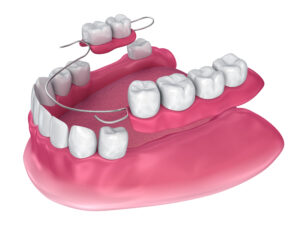 Fixed Dental Bridge
Govani Dental also offers a more fixed option, like a bridge, which requires the teeth in front of and behind the missing teeth to be crowned. The space between the teeth is replaced with a bridge tooth. A bridge looks good and provides more function than a retainer or partial denture. But, because the teeth must be prepared (cut) they are then compromised with crowns, the health of the tissue needs to be monitored carefully.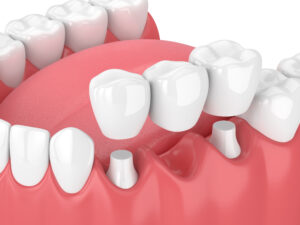 Implant Fixed Dental Bridge and Denture Options
To maintain bone, full function of your teeth  and achieve a cosmetic outcome, Govani Dental believes dental implants are an ideal option for many patients. Plus, with patient commitment to routine dental care, they can last the longest.
How to Know if Dental Implants are Right for You
First, Dr. Govani will evaluate you carefully to ensure dental implants are the best option for you before proceeding with treatment. While implant dentistry provides a stable replacement for missing teeth, it is not right for everyone.
Optimal candidates for dental implants
• Are in good physical health.
• Have enough bone in their jaw to support the implant or to have bone grafting completed.
• Are willing to invest the time it takes for the healing process to take place.
• Committed and able to maintain good oral health; keeping the tissues clean and keeping regular appointments to ensure tissue health.
• Understand the importance and standard of care to protect the implant with a night guard while sleeping.
If you are not an optimal candidate it does not mean implants can not be considered.  There are patients that understand they have more risk but with proper homecare, lifestyle changes and health management they can achieve success with dental implants. Once the evaluation is complete, Dr. Govani will help you decide the best option for replacing your missing or damaged teeth.
Get your smile back!
Implant dentistry can help you achieve a confident smile for a lifetime. If you have questions about dental implants please read our implant and missing teeth blogs! We welcome you to schedule a consultation with Dr. Govani, please call our office at 920-231-1955.